BUDDY BUDDY
Peanut Butter
Not your ordinary peanut butter, ours is made purely with bio peanuts that are roasted to perfection, crushed to smithereens, and seasoned with a hint of pink Himalayan salt. Deemed 'Simply Delicious' by the Great Taste Awards.

Profile: 
Nut Origin: Léon, Nicaragua - Roast: Golden - Grind: Smooth
Certifications:
Organic (BE-BIO-01)
Vegan
Naturally gluten-free
No palm oil & additives
Made by us in Brussels
How to enjoy:
Our organic natural nut butters are versatile and you can enjoy them in a variety of ways:
As a spread on bread, it's a great low-sugar alternative to jams.

As an addition to drinks such as smoothies, lattes, and hot chocolates. 
As an addition to sweet foods such as granolas, yogurt bowls, fruits, and vegetables.
As an addition to savoury foods such as sauces, dressings, and hummuses.
As an ingredient in baking, pastries, ice creams, etc.
Or simply, and that's what we recommend the most, on its own by the spoon!
Order Until 4 pm for Next Day Delivery

Order unitl 4 pm the day before for next-day delivery.
Ingredients

• 99,7% Dry-Roasted PEANUTS*
• 0,3% Pink Himalayan Salt
(* Organic agriculture)

Possible traces of allergens: Peanut, Nuts
Nutritional Values

Nutritional values (per 100g):

Energy: 595 kcal / 2489 kJ
Fats: 51 g
Of which saturated fatty acids: 6.4 g
Of which monounsaturated fatty acids: 24.4 g
Of which polyunsaturated fatty acids: 15.6 g
Carbohydrates: 16.3 g
Of which sugars: 3 g
Fiber: 8.5 g
Protein: 29.8 g
Salt: 0.4 g
Omega-3: 100 mg
Omega-6: 15.6 g
Niacin: 16 mg (100% DV)
Magnesium: 168 mg (45% DV)
Potassium: 705 mg (35% DV)
Folate: 240 mcg (120% DV)
Iron: 5 mg (36% DV)
Vitamin E: 8 mg (67% DV)
Vitamin B3: 12 mg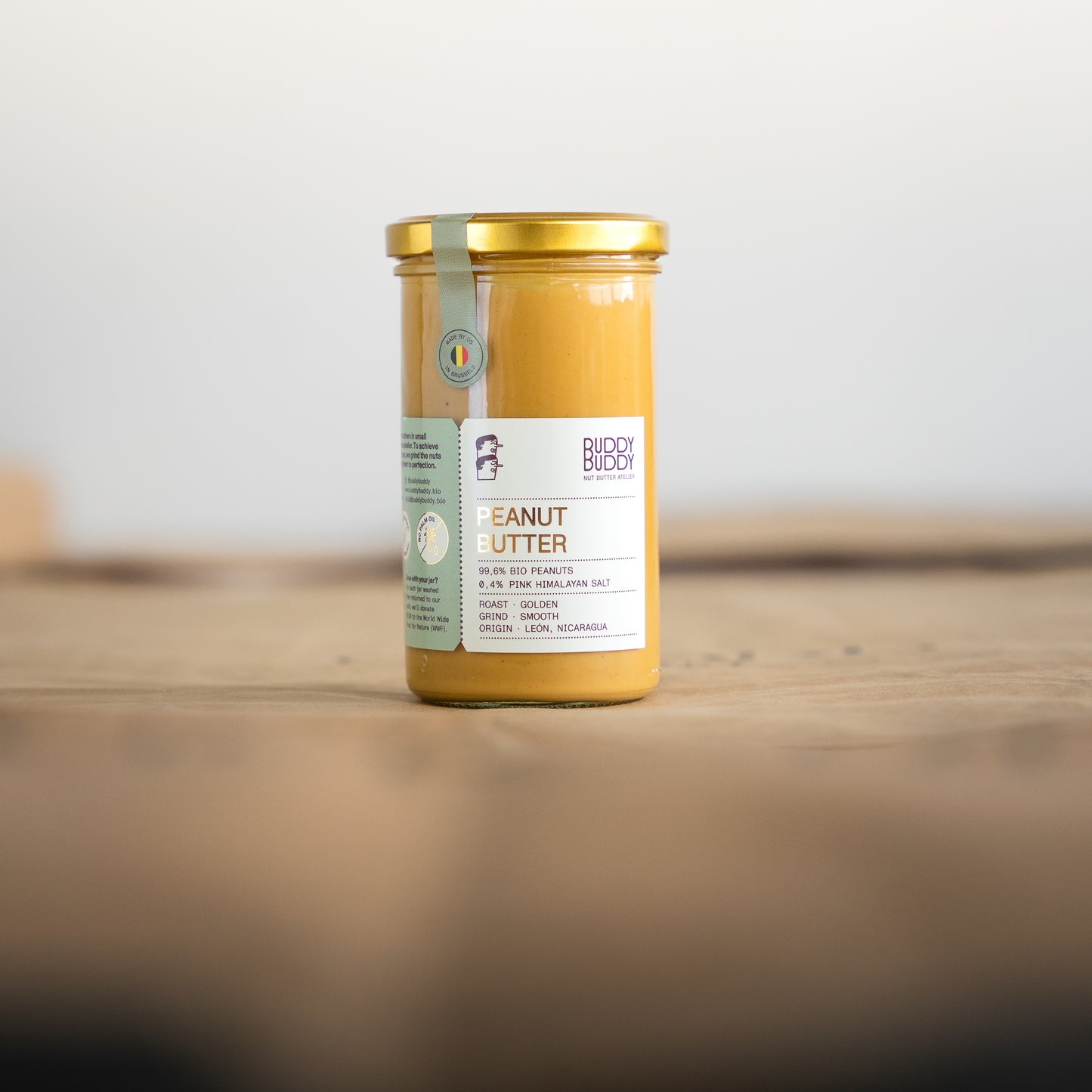 Buddy Buddy in a NUTshell
BUDDY BUDDY, embodies the values of sustainability, local handcraft, and premiumness in every jar of nut butter they create.
They craft their nut butters at their atelier in Brussels with the finest organic ingredients, ensuring a rich and delicious taste with every bite. Sustainability is at the forefront of everything they do, and they are committed to reducing waste and their carbon footprint by sourcing locally and using organic ingredients only.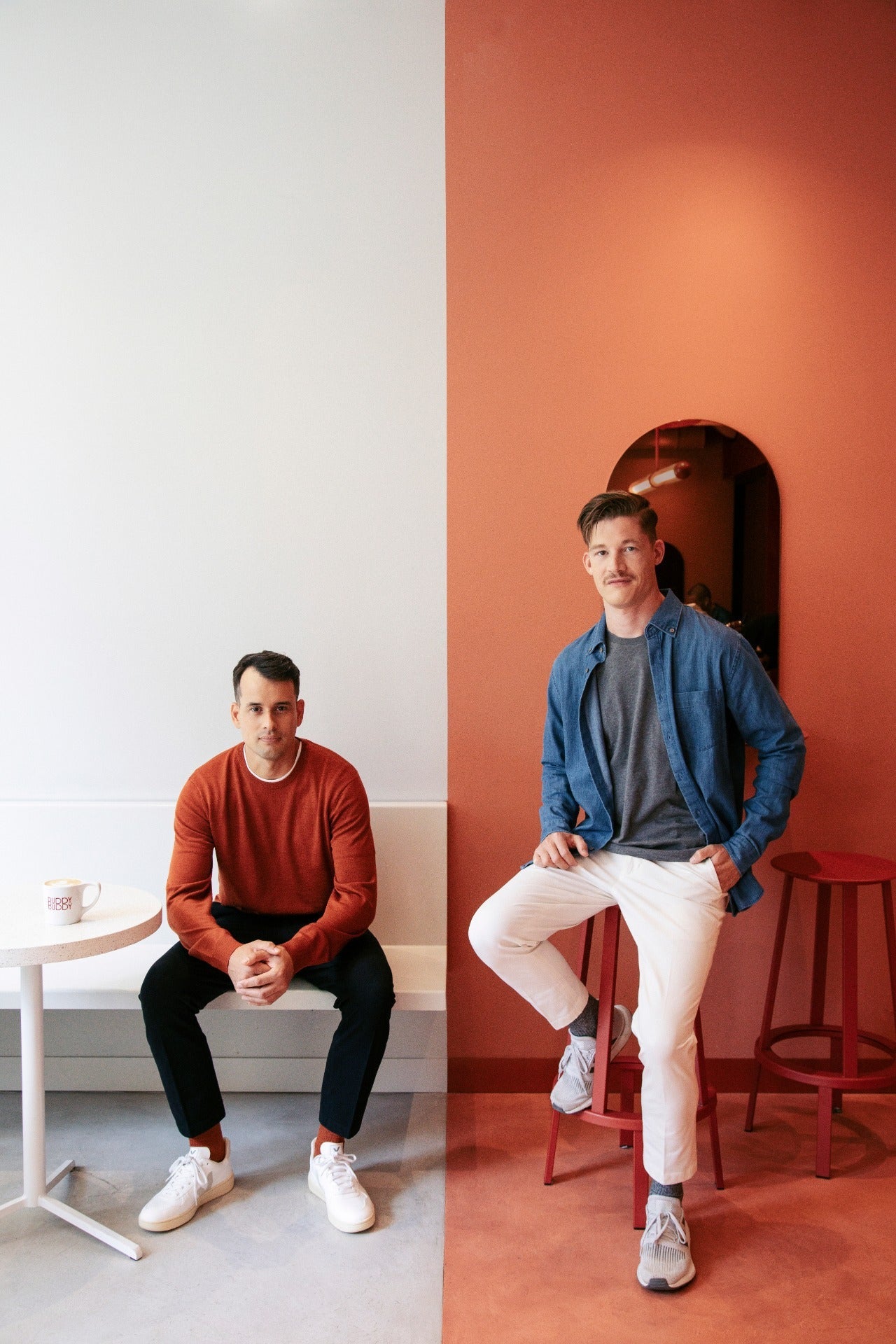 Their Story
BUDDY BUDDY is an independent family business, led by life partners Matt (from New Zealand) and Julien (from France), who share a passion for healthy living, nut butters, and specialty coffee.
After discovering that many of the nut butters available on the market were filled with added sugars, preservatives, and artificial ingredients, they set out to create a better option and make it a real experience through their nut butters coffee shops.
In 2016, Matt and Julien started hand-making small batches of nut butters in their kitchen, using only the highest quality organic ingredients. Word quickly spread about their delicious and healthy creations, and soon they were receiving requests from friends and family for more.
Encouraged by this positive response, Matt and Julien decided to turn their hobby into a business. They left their previous venture, invested their savings into the company, and set up a small nut butter atelier in Brussels.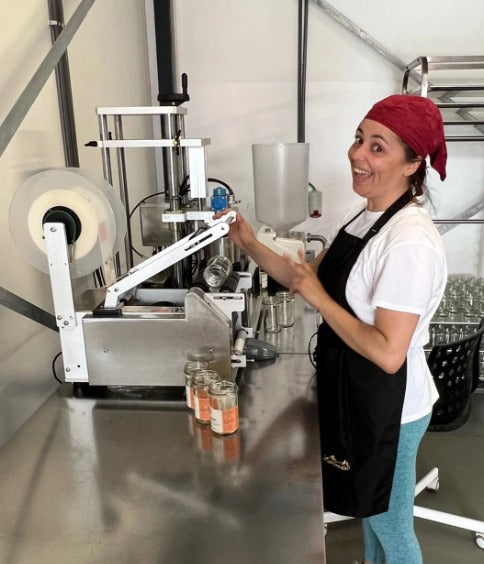 Their Atelier
At BUDDY BUDDY, they take pride in crafting the finest and most nutritious nut butters available. Their small-batch process begins at their atelier in Brussels, where they source only the best quality organic nuts from trusted farmers. Their nut sources include French hazelnuts and almonds, in direct partnership with a from located in the Lot-et-Garonne department, as well as Nicaraguan peanuts.
To ensure the best possible flavor, each nut is carefully roasted at their atelier. Once the roasting process is complete, they immediately crush the nuts into tiny pieces and mix them with other premium ingredients, such as spices or sweeteners. This entire process is done by hand to ensure that every jar of BUDDY BUDDY nut butter is of the highest quality.